Guiness also know as Big Bill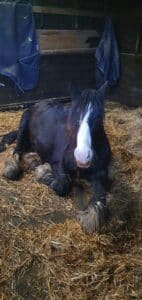 Guinness is a 14hh Traditional Blagdon cob who was bred just a few miles away, we have known him since he was a tiny foal, and we got him as a Christmas present.
At the moment, he is the youngest member of our herd and he is best friends with billy, he is very inquisitive and confident , he loves to be at the centre of everything that is going on.
Guinness is our joker of the pack!! He has such a sense of humour and loves playing with things. He will often pick things up and throw them around, and his favourite toy is his jolly ball.
Guinness is very intelligent; he only needs to be shown something once and will understand it.
With him being so young, he is also a bit boisterous, and he can get a bit rough in his playtime and is often put back in his place by either Taps or Storm.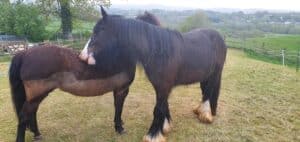 He loves any attention and enjoys making a lot of noise to remind you that he is here